~*~*~*~*~*~*~*~*~*~*~*~*~*~*~*~*~*~*~*~*~*~*~*~*~
FOR TODAY
Outside my window ... the temp is dropping, going from a high of 33 yesterday, to very cold!.

I am thinking ... Monday will be Valentines Day, I should plan on making a craft and some treats, maybe homemade chocolate truffles?

I am thankful for... my sister-in-law Sue.

From the kitchen... Yesterdays homemade beef vegetable soup, leftover Pizza from Sunday, breakfast of french toast made of the remains of some bread I baked a few days ago. It smells so good, 3 eggs, 1 cup milk, 1 tbs. vanilla, 2 TBS brown sugar, 1/4 tbs. cloves and 1 tsp cinnamon.
For dinner, I have a corned beef defrosting, I'll simmer that with potatoes, cabbage, carrots and onions.
I'm canning some Butternut squash today. Butternut stores well in the root cellar, in face under ideal conditions I should keep almost a year. However, there are times that I just can't be bothered with peeling and scraping out the seeds. I look at my canning endeavors this way... convience food Little homestead style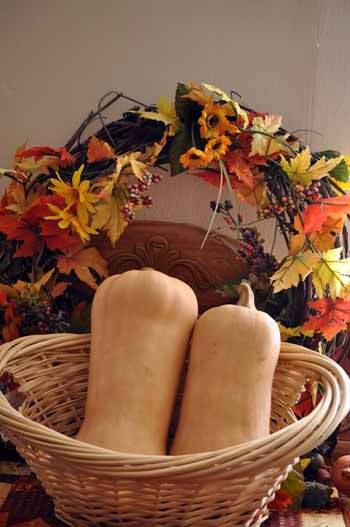 I am wearing... Cotton red bandana print pants, a red cotton sleeveless tee and a 3/4 sleeve length warm sweater.

I am creating... The quilt is finally finished and I'm still looking for my next project. I did cut up old towels to be used as a replacement for paper towels.
This "basket" was given to me by a friend many years ago. I liked it but never really had a place for it. A few days ago Walt hung it on my kitchen wall near the sink. Don't you think t makes a nice place for my towels?

I am going... to stay home and start cleaning out the apartment. Hope we can rent it out soon.

I am reading...Adirondack Life, National Geographic and some of my favorite blogs.

I am hoping... for the best and preparing for the worst.

I am hearing ... the television, the warm air blowing into the warm when the furnace kicked in.

Around the house ... Chaos. We just finished turning the spare(junk/storage) room into a game room for David and Katie. Now I have piles of extra sheets and blankets and some clothing. The clothing will be boxed up to give to charity. Sheets need to be sorted and put into sets. Some for home, some for camp some for a craft project and ? with the rest.

One of my favorite things ... White buckets from the bakery. I get them for free. Great for storing extra rice, flour , sugar or to use as a food prep bucket.

A few plans for the rest of the week: Paint the apartment, bake bread, inventory the fruit cellar.

Here is picture I am sharing ...
As you can see, it's time to put on tall boots and trudge out through the deep snow to fill the feeders with birdseed.