I noticed today that all of my home harvested garlic is starting to sprout despite being stored in a dark cold root cellar. I took about half of my garlic and made pickled garlic.
Blanch 2 cups of garlic cloves in simmering water for 1 minute.
Rinse with cold water and slip off skins.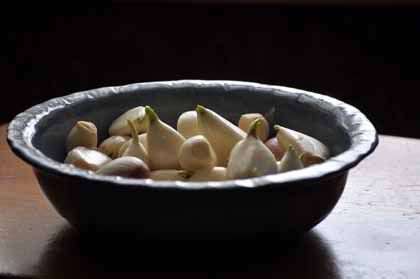 Simmer 2 1/2 cups of white vinegar and 1/2 cup dry white wine.
Add the following to each of 4 hot and sterile jars half-pint jars.
1/2 tablespoon mustard seeds
1/2 teaspoon of dill
1/2 teaspoon hot pepper flakes
1/2 teaspoon pickling salt
1/2 teaspoon celery seeds
1/2 teaspoon whole black pepper
1/4 teaspoon coriander
Add garlic and cover with hot vinegar, leaving 1/4 inch head space.
Process for 5 minutes in a boiling water bath.