April 15th, right after school, we packed up the van and took our two younger to Florida. dan, our 20 year old stayed behind to look for a job and to enjoy a whole week alone in the house. His fear was that he would starve even though I left lots in the freezer and cupboards and Dad gave him some money for contingencies.
We arrived at our hotel in Daytona Shores Friday 6pm. So you may ask how does a "homesteading attitude" fit in with a beach vacation ? (We don't eat out very often, we don't replace appliances and things we own with a newer, better model, we repair if possible and replace only when we have to. WE have cell phone ( a necessity with our work and family life) but all the phones we own we have obtained for free or almost so. We both drive older vehicles etc. When we do splurge it's something that has real value. ) We don't vacation often, and I feel that travel, if done correctly is a great educational tool.
By spending time online I found a small hotel on the beach For $99 a night, we got a living-room/kitchen with 2-bedrooms 2 bathroom suite. It was In Daytona shores away from the crowds at Daytona Beach. Most important although the place was modest it was charming and CLEAN. staff was wonderful but amenities were few. Hey as long as its clean and I can get as many clean towels as I need an maybe an extra pillow for reading in bed I'm happy. We spend QUALITY time together as a family. Kids alternated between pool and beach. Walt and I found a used book sore. He bought a WWII book and I collection of Letters from Thomas Jefferson. WE rested, read our books, found a farmers market and bout lots of fresh fruit and veggies. A many meals in our room. When we did eat out it was sea food and gator.
We woke up early to watch the Space Shuttle DISCOVERY land, then we toured the space center. As a bonus, our shuttle bus was forced to stop so that DISCOVERY could get towed across the road. We were able to get a good close up view as it rolled past our bus.

We also toured Angell and Phelps chocolate factory. They give free tours (with samples). It is fantastic chocolate.
We hired Captain Pete of Turtle Mound Tours to give us a fishing/sightseeing trip in his pontoon boat. The fishing was great. Everyone caught something. We also saw dolphins and went hunting for hermit crabs (Yes, we relseased them)
Daytona Beach Shores is not as crowded as Daytona Beach. We enjoyed going out looking for shells.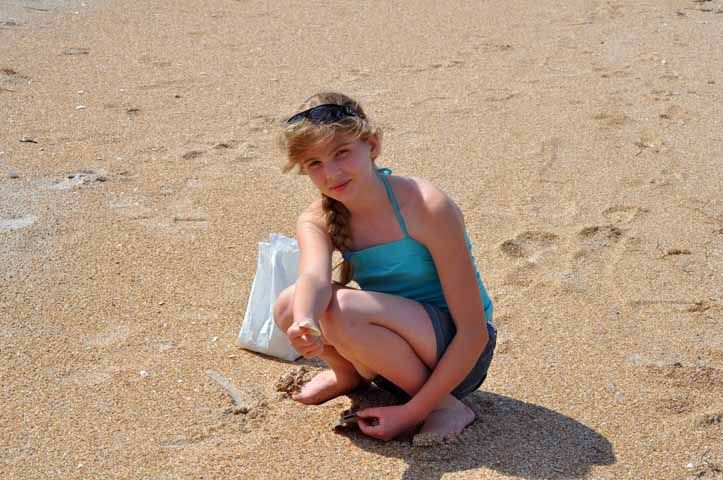 Here is Katie and David taking a walk on the beach at dawn.