Tuesday, May 22, 2012
Posted by

Kim
at 6:17 AM
No comments:

My birthday falls in May. For the last 5 or more years I have given myself a birthday gift: solo photography or kayak or hike in the ADKs. Yesterday I paddled Twin Pond off South Shore Road, Old Forge. The pond was a nice little paddle. The hemlock forest south of the pond I saw some ladyslippers just budding, a few blueberries, and hay scented fern (Dennstaedtia punctilobula). In the center of the pond is a bog. I was surprised to find wild calla also called water arum. Also found in the bog were a few pitcher plants, bog laurel (Kalmia polifolia), and bog beacon (Mitrula paludosa).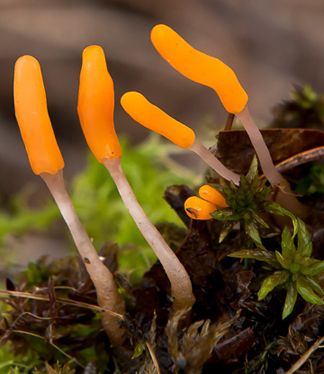 Bog Beacon is small ( one to 2 inches) has a yellow or orangey swollen 'head' area held aloft on a white or translucent stem. Mitrula paludosa is a saprotrophic or 'recycler' fungus, which is breaking down dead plant litter. It is found on the dead remains of higher plants, mosses and algae, this species is usually found in areas of seeping water. Thus ditches, slow moving streams, and sphagnum patches can all be productive places to search.
Posted by

Kim
at 5:38 AM
No comments:

Sunday, May 6, 2012
Saturday May 5th was a perfect day here on the Little Homestead. I started the day by making a pot of coffee and a big batch of pumpkin doughnuts. We cleaned the kitchen, made ice tea, washed and hung a large load of laundry on the line. In the meanwhile, Walt proceeded to organize and clean out both sides of the carriage house (garage). I was out in the kitchen garden transplanting lettuce, I thought I heard a buzzing from the apiary. Normally, I shouldn't hear them. I got up to check it out and hive #1 (named Aster Hive) was swarming. I called Walt and he started preparing to capture the swarm. We watched them alight on a nearby shrub. As soon as they settled down, Walt transfered them to a hive body. We waited to see if they would stay. Soon some bees started "fanning", which told us they had accepted the hive. Then a chicken started the "egg song" announcing to the world that she had just laid an egg. A warm perfect spring day: clothes drying on the line, a basket of just collected eggs, a new colony of bees, and in the kitchen garden, asparagus, rhubarb, lettuce and spinach almost ready to pick. The day ended with the "Super Moon" rising and bullfrogs singing in our pond.
Posted by

Kim
at 8:43 AM
No comments: