FOR TODAY
Outside my window
... Cool, rainy and grey. It's a perfect day for baking.

I am thinking... How bad the economy is getting. Everything is going up and taxes are going so high. What will future be like ? More important, what will the future be like for my children ?

I am thankful for... all I have. even though money is tight, I have much to be thankful for. I have a food storage. My drier is broken but I have been able to hang laundry on the line. My microwave also broke but with careful planning I can manage without it too.

From the kitchen... I'm canning 12 quarts of sweet potatoes and 11 quarts yukon potatoes, I'm baking 2 pumpkin pies, a large batch of pumpkin-chocolate chip-walnut cookies, I made a pot of cream of broccoli soup (made from leftover broccoli, a shredded russet potato carrot, chicken broth mild, a dab of cream and a drizzle of sherry) and a home made crusty multigrain-oatmeal bread.

I am wearing... an orange tank top, my favorite pair of hiking shorts and deck shoes.

I am creating... a tablecloth for the dining room table. I'm hand stitching a solid colored hem on an autumn theme jacquard.

I am going... to stay home. My car is at the mechanic's.

I am reading... The local paper, mushroom identification field guides and a book on making wine at home from fruit, vegetables, flowers and herbs.

I am hoping... That my company (MPG) will get a good contract soon. We need the work. We lost a good contract when a biz announced a plant closing.

I am hearing... conservative talk radio in the background and the rattling on the regulator on the pressure canner. Other than that it's quiet, every one else is gone.

Around the house... the usual clutter... canning supplies on the dinning room table, laundry waiting to be folded in the den, vegetables in the sink, and buckets and jugs in the hall in various degrees of fermentation on their way to becoming wine.

One of my favorite things...a blue sunny day in early October in the Adirondacks. A perfect day for leaf peeping with my camera in hand.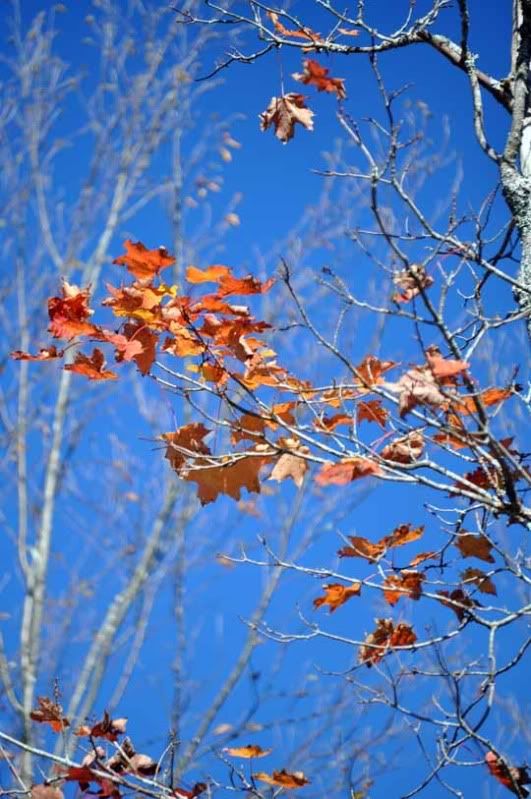 A few plans for the rest of the week: pick up my car from the mechanic, go to the republican victory center make calls for a political candidate and then off to Katie's and Davids Cross Country meet, sort and can more potatoes, transfer fermenting apple juice into carboy, harvest beets.

Here is picture I am sharing... "Which is the road not taken ?"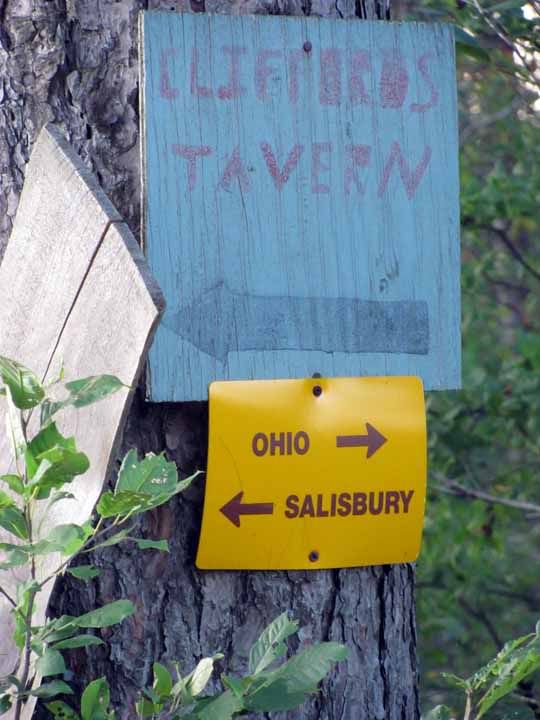 I like to drive down and explore not well travelled roads, I stopped to pick berries near this sign and contemplated which direction I should go. Which way do you think I went?