FOR TODAY Outside my window
... Cool, there was a frost last night and a beatiful blue sky. It's sunny so I have laundry hanging on the line.
I am thinking ... I wish I could sew. I would like to make some curtains for the living room.

I am thankful for... my husband. Walt is so talented. He can fix many things that break down. That's good in at least too ways; we can save money by not having to replace that item. We are also keeping it out of a landfill.

I am praying for... my children.

From the kitchen...I have a large bowl of bread dough rising. I will turn this into a cinnamon loaf for breakfast, a plain loaf for sandwiches and a garlic-herb loaf for dinner - I will also bake later in the day, 4 mini Loaves of quick Apple Bread.

I am wearing...I'm glad I don't have to post a picture. Purple flannel loung pants a a red oversized tee shirt, but I'll be getting dressed soon.

I am creating... going back to working on my scrappy flannel quilt. I put it away in the spring so I could work on other projects.

I am going...to Katies and Davids Cross Country Meet in West Windfield.

I am reading...Adirondack Wilderness - A story of Man and Nature by Jane Eblen Keller,

I am hoping... really hoping and praying that we will get some work soon. It's hard being self employed in a poor economy.

I am hearing...The Glenn Beck Show on the radio

Around the house...Way too much clutter, every room seems to have dirty shoes and socks. And a pile of dirty dishes in the sink. (someone did not do their chores last night) And laundry to be folded and put away.

One of my favorite things... White buckets usually holds 4 gallons or more. I get them for free from the bakery department of a large grocery store. Great for holdi making wine (primary fermention)large harvests tomatoes, apples, also storing pantry items like flour, sugar, dreied beans... If I'm lucky I can get lids for these.

A few plans for the rest of the week: Ahhh, Clean the house, work in the garden, volunteer making calls for a political candidate. Start working on the scrappy flannel quilt.

Here is picture I am sharing...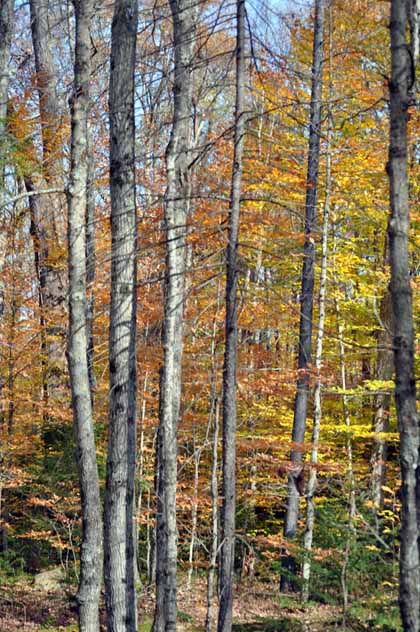 October 11, 2010 The Black River Wild Forest, The Adirondacks
You can join other woman who are participating in
The Simple Woman's Daybook
by clicking
here
.