FOR TODAY~ Outside my Window ...White! It's snowing and snow is covering everything
I am thinking ... about the late winter gardening chores I should be doing, Winter-sowing seeds, pruning grapes, checking on the bees.
I am thankful for… my husband. his strength, wisdom ... that he works so hard for us, his so many talents and how he is able to tackle a job he never did before, figure out how to do it and get it done. He's amazing. He's my hero!
From the kitchen ... leftover apple brandy chicken breast from last night's dinner, a poolish - a slurry of water, flour and a little yeast- bubbling until I add more ingredients and shape it into bread loaves and bake), sausage and scrambled eggs, the smell of fresh coffee.
I am creating ... Working on several projects... knitting dishcloths, working on big flannel scrappy quilt and I have been looking at my fabric stash and trying to decide on another sewing project.
I am going ... nowhere today, I hope. It's snowing and I have would like to finish a few house projects today.
I am wearing ... my yellow cotton nightgown, trimmed in yellow eyelet lace.
I am reading ... Current issue of National Geographic, Utica Observer Dispatch and some cook books.
I am hoping ... That CDP will call soon and offer us a contract. We need the work.
I am hearing ... David and Katie getting ready for school, the televisions news (today show) carrying a story from the olympics and no, even though there are many school cancellations due to the weather, their school is not closed today
Around the house ... the usual clutter, a new yellow gingham curtain for the kitchen window. (yea! I finished sewing it yesterday.)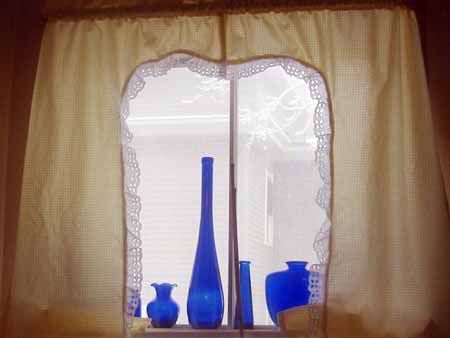 One of my favorite things ... essential oils in my favorite smells- eucalyptus, citrus, lavender, pine., used for cleaning or in added to a potpourris.
A few plans for the rest of the week.. would like to put up some citrus, maybe canned clementines.
A picture I'd like to share
Gettysburg