I 've been coming across blogs posts logging their independence day activities. What is an independence day? You can read about it here : Independence Day Challengee




Here is my first Independence Day Challenge post.




Plant Something:

basil, and carnival mix sweet pepper seeds in a windowsill "greenhouse".

Harvest Something

: It's all under the snow. :(

Preserve Something:

- Katie and her friend Leandra helped me can mandarin oranges. We peeled and removed as much white pitch as we could from about 4lbs. oranges. They made a light simple syrup. We put orange sections in sterilized jars and I ladled the hot syrup into the jars leaving inch headroom. They poked chopsticks into the jars removing airholes. I wiped the rims with a cloth dipped into hot water. we then put lids and rings on, made sure they were tight and I put into a boiling water bath for 10 min. We made 4 pints, 1 12 oz., and 7 half pints. Some of the jars have a bit of spice such as a small piece of cinnamon, or ginger , cloves or star anise. I also put in the freezer 5 lbs of boneless, skinless chicken breast bought on sale @$ 1.77/lb.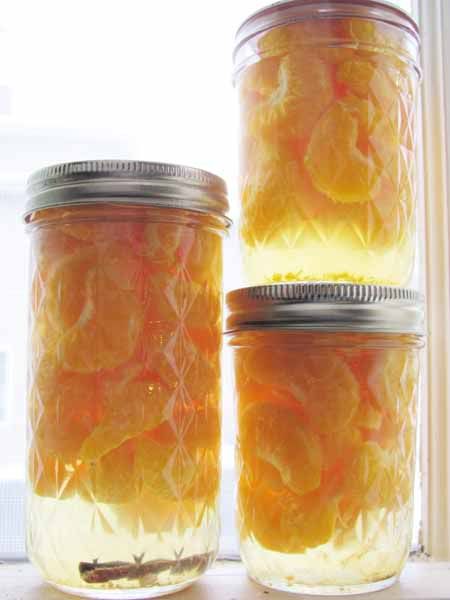 Waste Not
: Saving newspaper for the garden, egg boxes to offer to someone who is selling eggs.
Want Not
: I took an inventory of my "store". Now I know what I need to use up and what I should be planning on canning and acquiring
Build Community Food Systems: Although I'm not a member, I am telling others about the
foodshed buying club
.
Eat the Food: Fresh Baked Bread with apple butter made from windfall apples a two years ago.
+++++++++++++++++++++++++++++++++++++
I have been working on developing a "Store" ie. a storage area. In this case, its a corner of my basement where I store not only my canning supplies and jars filled with wonderful come canned goodies but filled with things I bought on sale so that we'll have most of what we need. I still have a long way to go, there are some obvious omissions but heres what I have so far.
INVENTORY

In the Store
King Arthur Special Flour
50 lbs.
Sugar
5 lbs
Rice 20lbs
Coffee
4 2lb cans, 1 -10 oz.
Olive Oil 1 gal
vegetable oil 3 bottles
Marinated Artichokes
11 jars
Chicken or beef broth 9 cans
Shampoo/conditioner
4 bottles each
This is not a comprehensive list, nor does this include items in my kitchen pantries or freezers.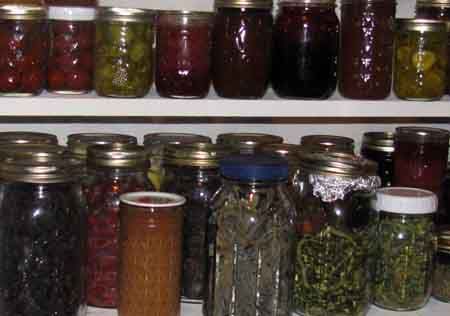 Home Canned
Jars - 2010
Mandarin Oranges
4 pints, 1 12 oz. 6 - 1/2 pints
Dehydrated Peppers
1 pint
Dehydrated Mushrooms
1 pint
Jars - 2009
Low Sugar Strawberry Jam 5 pints, 2 - 12 oz.
Strawberry Jam
4 - 1/2 pints
Ginger Peach jam
7 - 1/2 pints
Strawberry Lemonade
5 quarts, 2 pints
Bread and Butter Pickles
6 quarts, 3 pints
Dried tarragon
1 small jar
Jars- 2008
Peach Butter
2 - 1/2 pints
Apple Butter
1 pint, 1 - 12 oz, 2 - 1/2 pints
spiced peaches
2 pints, 1 - 12 oz
Spiced peaches w/ cherries
1 pint
In the Root Cellar
Garden Garlic - lots!
Garden butternut squash - 4
Garden Pumpkin - 2
Local potatoes - 1/4 of a 50lb bag
onions - 4 lbs