Today is Valentines Day. Walt and the the 2 youngest seemed to be up to something this morning while I was cleaning up from breakfast. Then when my back was turned I was given some cards and a single red rose. I kissed each one, asked them to wait there with closed eyes and I put small boxes of chocolates in each hand. I had thought long and hard about buying 5 little boxes at 99 ¢ each. We're on a tight budget and I was planning making some homemade treats.
I took Katie and David bowling as I've been doing every Sunday morning since January 1st. David is on the bowling team at school but really needs extra practice. Katie likes to come along. The games are a $1 each On Sunday mornings. They play 3 games each. David has his own shoes and Katie rents for $2.50 I don't bowl ( don't even ask me, I 'm not very good and I don't like to do it) but I watch them. I also let them share a drink from the vendo. This sets me back only about $10 each week.
When we got back home there was a surprise waiting from my oldest son Brian. There was a rose (with babies breath and fern) for Katie and one for me. He fond vases for them and wrote a note about the favorite ladies: the girls who always love him.
I 'm so thankful; I am loved,I have a husband who works hard and appreciated my efforts My children thoughtful and loving. We're on a tight budget right now, but we eat like kings. Yesterday we had Thomas Bagels with cream cheese and Kiwi jam for breakfast. Lunch was homemade soup... sauteed onions and garlic from our garden, chicken broth, cream of celery soupy, carrots, local potatoes and cabbage, bag of frozen snow pea from the garden and seasoning. Dinner homemade pizza. Breakfast today omelet. Lunch leftovers. Dinner pork roast with slivers of garden garlic, thyme and crushed juniper berries en-robed with bacon slices. This was served buttered boiled potatoes and leftover broccoli, cauliflower and peas polonaise style.
I'm happy and thankful. I really don't need much. I have a good storage... for example, I want to make a valentines confection but I was out of powdered sugar... Instead of going to the store, I took a peek at my "store" There are still two bags of powdered sugar. I also picked up my jar of dried thyme. Barely 1/4 tsp left in the jar, but no worries, another trip to my "store" revealed a mason jar filled with stems of dried thyme. Just 5 minutes spent picking out stems and I filled my small spice jar and still have lots to spare. I think I have enough to last until spring.
Valentines Day Mints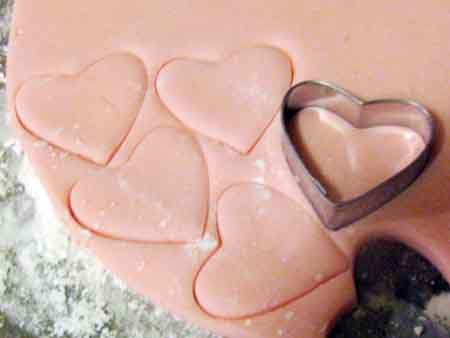 1 egg white
4 C. powdered sugar
1/3 C. light corn syrup
1/2 tsp. Creme De mint extract
Using a mixer, beat the egg in a metal bowl until frothy but not stiff. Slowly add in the powdered sugar and mix well. By hand, mix in the corn syrup and peppermint extract or oil. Knead the mixture with your hands until it has the smooth consistency of dough. Add a bit more powdered sugar if necessary so that the mixture isn't sticky. Coat a hard surface and rolling pin with extra powdered sugar and roll out the dough until it is about 1/4" thick. Using a mini heart-shaped cutter, cut out as many shapes as you can. Place the hearts on a cookie rack and gather the remaining dough to roll out and cut again. Continue gathering and cutting until you use up all the dough. Let the hearts get firm in the refrigerator for 45 minutes to an hour.