No, It's not too late ... it's also not too early either. What am I referring to ? I'm talking about sowing seeds here in here in zone 4. If you haven't yet gotten your WINTER SOWING done, you should do it now. If you're a gardener and haven't tried it, you should try it now.
What is winter sowing ? It's a method of sowing seed in containers like plastic gallon milk bottles. The containers become mini green houses. The prepared containers or "jugs" are placed in the snow and "forgotten" until conditions are right for the seeds to sprout. It's amazing to see little spouts in jugs when there is still snow on the ground. At some point when the garden is suitable - the little plants can be transplanted in the garden. The benefits of winter-sowing are twofold... lots of plants for the price of a pack of seeds and some potting soil... and the plants, though they may be small when you transplant them are very hardy and often out-perform nursery bought plants. Not all seeds can be winter-sown, but many flowers and vegetables do well with method.
Go to the "
Winters Sowing"
site to learn all about it. The site owner, Trudy is doing a great job showing others how to winter-sow. In fact, they are offering free tomato seeds if you want to try winter sowing.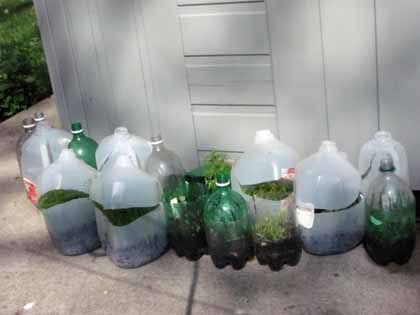 Jugs filled with wintersown plants. I'm sorry I don't have a picture of Jugs in the snow but an internet search is sure to come up with some.
Close up of tiny winter-sown onion plants.

This is a day's harvest of heirloom winter-sown tomatoes.
What do you think about winter-sowing?