Yesterday was a warm (over 70 degrees) and humid day. The weather report called for rain so I went out to see what I could do in the garden before it came. My first chore was to shovel compost on the second half of the bed that I planted sprouted "Progress # 9" peas in over the weekend. After a good layer of compost was added, I made three rows and put in carefully selected 'pea brush'. The branches serves a dual purpose, a support for the pea vines as they grow and as a deterrent to the feral cats who like to roll around in fresh turned soil. Then 'Little Marvel' peas were planted.
ROWS OF PEA SEEDS AND PEA BRUSH

When I finished the peas, I checked on the cold frame. opened the windows for while and placed in a few more pots of sprouted plants that were in windowsills in the house.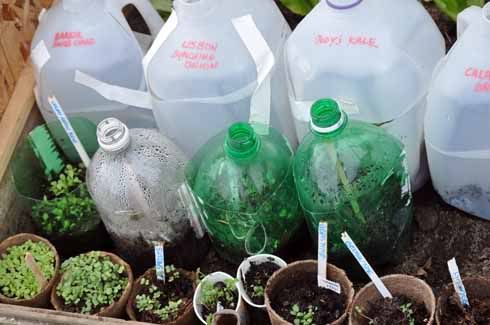 VARIOUS CONTAINERS INTHE COLD FRAME
CHORES
The next job was to top dress the garlic with compost. The garlic leaves were about three leaves high and looking good.
YOUNG GARLIC TOP DRESSED WITH COMPOST
And while I had the shovel in my hand, I moved on to top dress the 4 rows of asparagus. Then I took a little time and straightened out the rest of the kitchen garden, picking up twigs and wayward plastic pots etc.
Walt came home for lunch. which we had (leftover potatoes, ribs and wild goose breast) on the porch. While eating, we perused the stack of Mother earth News and Hobby Farm looking for pictures of chicken coops. After lunch I raked out the flower-bed under the apartment windows. This bed has an english rose, Jackmanii Clematis, and a seven sisters rose. The rest of the bed is bare, with just a few crocus and some clumps of 'Jacob's Ladder'. We had to reset the trellises into the ground, prune and tie up the tall rose canes. Then we moved on to fill all the bird-feeders. Walt then moved on to check on the bees, watching them come and go for awhile. While I cleaned out and enlarged the narrow herb garden which surrounds the hot tub. I made two small tipis of bamboo and planted the six peas the I spouted in peat pots weeks ago. (they are now 2 inches high). I wrapped some vines around the tipis and it looks cute! We proceeded to rake some more and then the rain finally started. We picked up our tools and went inside. It was dinner time and I had spent the whole day outside and had no dinner. No worries, I pulled a few jars from my food storage and a box of pasta, and had a quick supper of shells with tomato-meat sauce
Yesterday, I noticed violets blooming, Today I also saw hepatica in the woodland garden.
Of course we also have winter aconite. snowdrops, scillia and some chionodoxa forbesii.