It is also snowing today. I got up early and got a head start on the day's chores. After cleaning up from breakfast, I made a bowl full of bread dough and left it to rise. Right now I've got a pressure canner full of pints of sweet potato. These small jars are just the right size to make a batch of sweet potato bread, donuts or pancakes. While the sweet potatoes are processing, I also made big kettle of cranberry/blackberry/strawberry juice. I bought cranberries right after the holidays when they went on sale.
Cranberry Juice
4 quarts (4 pounds) cranberries

Water

3 to 3 1/2 cups granulated sugar
Bring cranberries and 4 quarts water to a simmer in a large pot. DO NOT BOIL. Simmer 5 minutes, or until most berries burst. Pour berries and juice into damp jelly bag or a colander lined with four layers of clean cheesecloth. Let juice drip into a large bowl. DO NOT squeeze the bag. When you have extracted as much juice as possible from the pulp, return pulp to pot with 2 quarts water. Simmer 2 minutes. Pour this pulp and juice through jelly bag again to extract remaining juice. Place the 2 batches of juice in a large pot. Add sugar to suit your taste and 1 more quart water. Heat to dissolve sugar completely, but do not boil. Quickly pour into clean, hot jars, leaving 1/2-inch head-space; seal. Process in boiling water bath for 15 minutes.
Yields 6 to 7 quarts.
To make the cranberry/blackberry/stawberry juice I added a frozen strawberries (from the u-pick farm), and frozen wild blackberries from my neighbors lot. I added more sugar and 1 cup of lemon juice to taste.
Cranberry Blossom - Otter Lake , NY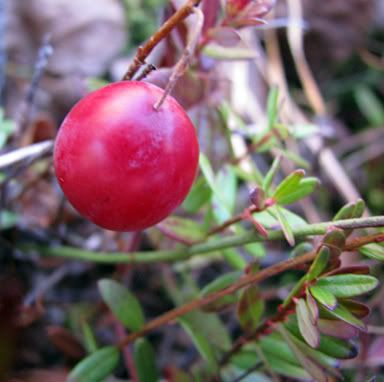 Cranberry- Pitch Pine Bog - Rome, NY