Plant Something:
Peas, spinach, parsnips, beets
Harvest Something
: Horseradish, some potatoes I missed last fall, some parsley, onion tops and sweet violets
Preserve Something: - Violet jelly - Springtime in a jar
Waste Not: Saving newspaper for the garden, egg boxes to offer to someone who is selling eggs, composting egg shells, coffee grounds, etc.

Want Not: I'm going to be hosting a plant exchange on May 1st. Will trade my extras for things I don't have.

Build Community Food Systems: Member of several on line garden forums. Sharing my knowledge with others

Eat the Food: Using up meat from my freezer. Lets see:
London Broil with rustic garlic potatoes.
Chicken breast marinated in teriyaki,and garlic tops served with angel hair pasta dressed with butter andherbs
Left over Easter ham w/ bone simmered with dried beans for a big pot of beans and rice.
VIOLET JELLY
Two cups fresh picked violets.
Pour 2 cups boiling water over clean petals. Cover and steep in refrigerator for 24 hours.
Add strained juice of 1 lemon. Look at the lovely color now. Add 4 cups sugar, boil 1 min, add 1 pouch liquid pectin, bring to full boil for 2 minutes. Stir and skim off foam. Pour into sterilized jelly jars. Cover and process in HWB 10 minutes.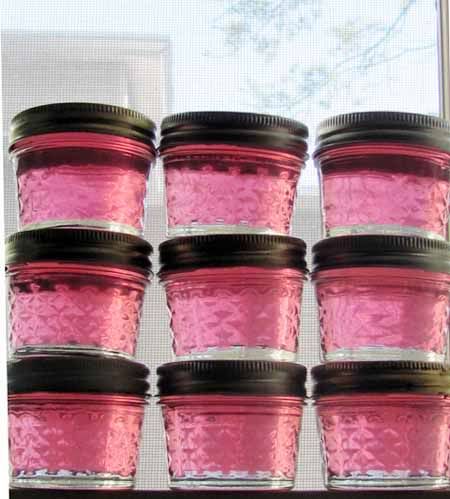 This is a delicate jelly enjoyed with a scone, or pound cake or maybe with Brie. What do you think?