Here in Central NY, we have enjoyed a mild winter with below average snowfall. That changed last night. Icy freezing conditions. I woke the kids up for school as usual but they soon returned back to bed as we leaned that they have a "snow day"

.
The snow is coming down. It's pretty, but the roads are slippery. Thankfully, because of a full freezer, and all of the food I've canned and stored, I don't have to leave the house except to check on the chickens and they will reward me with fresh eggs for the effort.
Soon I will wake up the family to a breakfast of Dutch Babies and Maple Broiled Grapefruit halves.
Ingredients
3 tablespoons butter, melted and divided
1/2 cup all purpose flour
3 tablespoons vanilla sugar
1/4 tsp. Nutmeg
1/2 teaspoon salt
1/2 cup whole milk, room temperature
2 large eggs, room temperature
Lemon wedges or Maple Syrup
Directions
Preheat oven to 375 degrees F.
Place 2 tablespoons of the melted butter into a 10-inch cast iron skillet and place in the oven. Set the remaining tablespoon of melted butter aside to cool slightly. Wait 10 minutes before assembling the other ingredients.
Whisk together flour, vanilla sugar, salt, milk, eggs and remaining tablespoon of melted butter . Carefully pour the batter into the preheated skillet. Bake on the middle rack of the oven for 30 to 35 minutes or until the edges are puffed and brown. Sprinkle with additional vanilla sugar and serve with lemon wedges or maple syrup.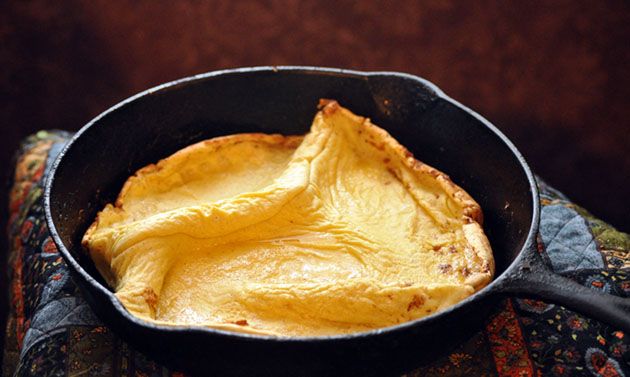 This is a good "snowed in " breakfast. What do you like to have when you're home-bound?